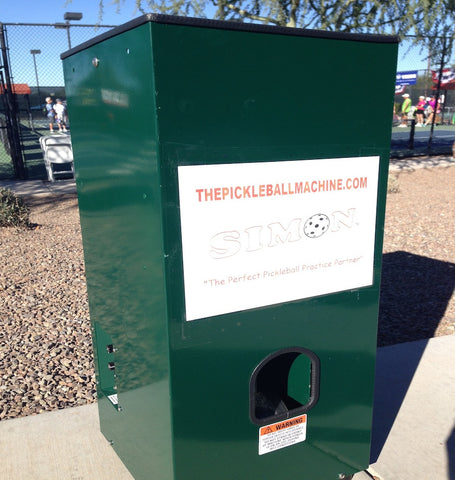 SIMON is completely portable as he runs on a powerful 6 hour quick recharge battery, so no electric cords needed.
Wireless Remote control.  Works up to 100 feet.
SIMON can feed balls up to speeds of 30 MPH using the fully adjustable speed dial.
SIMON can feed at your desired pace. Fully adjustable up to a ball every 1.5 seconds.
SIMON holds a whopping 70 balls in his main chamber, but every SIMON comes with a FREE funnel attachment which holds an additional 90 balls, bringing SIMON's total ball capacity to 160 balls.
SIMON is constructed in the USA and is made of heavy gauge steel.
SIMON stands 30 inches tall, 13 inches deep and 13 inches wide.
SIMON weighs in at 32 pounds (compare to TUTOR at 28 pounds) and has a built-in ultra sturdy carrying handle and wheels for easy movement around the court.
SIMON is guaranteed for a full 24 months (battery warranted for 12 month)
FREE SHIPPING in the continental US.
Visit www.ThePickleballMachine.com for more information and videos.
---
We Also Recommend
---