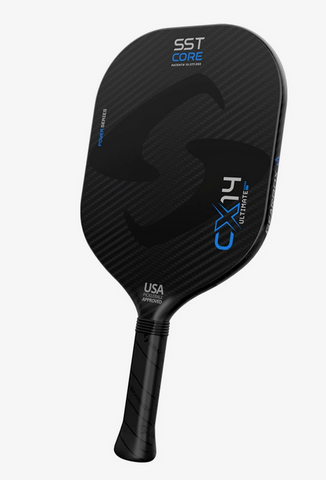 Ultimate Power. Fearless Innovation.
Introducing the all-new CX14 Ultimate Power Collection with new Power Band Technology, the most advanced paddle yet created by Gearbox. Inspired by the original CX14 but re-engineered with fearless creativity and ingenuity, this collection is designed to push the limits of paddle technology. Power Band Technology detaches and suspends the patented SSTcore rib structure from the perimeter of the paddle, creating a trampoline effect on the paddle face. The slight slope visible around the paddle's edge is your Power Band, giving you effortless Power with a solid, plush feel. With its improved sweet spot offering more consistency and improved touch, its upgraded Edgeless Frame now it has more reinforcement, stability, and power.

Improved Hyper-Bite 2.0 Spin Technology
This technology creates spin from the paddle's inner patented ribbed SSTcore to the paddle face. Hyper-Bite 2.0 describes a system where various components come together which include the patented ribbed SSTcore, the 3K Woven Carbon Fiber outer face ply, a top urethane face coat and a now top texture face coat, all to give maximum bite and grip on the ball for incredible spin.
Power Band Technology
Pushing the limits of creativity and ingenuity, Gearbox has engineered Power Band Technology. With the Power Band, the paddle's patented SSTcore is detached and suspended from the perimeter of the paddle, giving the paddle surface a trampoline effect. The band around the edge is a flex zone, allowing for movement and spring off the paddle face. The Power Band gives this paddle a solid, controlled feel with tremendous effortless Power.
Specifications
Paddle Face Finish: 3K Woven Carbon Fiber Ribbed Core
Material: T-700 Carbon Fiber
Core Construction: Patented Carbon Fiber Chambers
Head Shape: H (Hyper)
Weight: 8.0 oz
Handle Circumference: 3 5/8" or 3 15/16" grip
Handle Length: 5-5/8"
Paddle Length: 16-5/8"
Paddle Width: 7-3/8"
Paddle Thickness: 14mm
Grip: Gearbox Smooth Wrap - Black
Warranty: 1 year
USAPA Approved
---
We Also Recommend
---