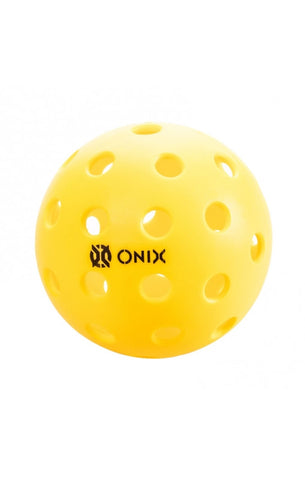 It's here!  The new Onix Fuse Outdoor Ball is specifically designed and optimized for the sport of pickleball, providing the truest flight and most authentic bounce available and featuring smaller holes and heavier weighting for optimal wind resistance during outdoor games.
True Flight Technology  -  The Onix Fuse ball delivers the most consistent flight available with perfectly round holes that are strategically aligned and precision drilled for optimal balance and perfectly symmetrical ball halves that are heat welded to create an extraordinarily smooth and durable seam.
Authentic Bounce Technology  -  Designed specifically for the sport of pickleball, the Onix Fuse ball features our proprietary material formula that delivers the most consistent and authentic rebound available and maintains its shape shot after shot.
Weather Weighted  -  The Fuse Outdoor Ball was strategically designed with heavier weighting and smaller holes to drastically reduce the impact of wind during play, allowing for truer flight during windy conditions.
---
We Also Recommend
---